About
---
BLES Biochemicals Inc. is an established global player in providing innovative solutions for treating neonatal respiratory distress syndrome (NRDS). With over 40 years of research and the development of bovine lipid extract surfactant BLES® and now BLEScath®, we strive to provide interventions that expand the standard of care practices.
Our Researchers aim to complement existing practices and enhance neonatal care to alleviate NRDS related mortality and morbidity.
Dr. Fred Possmayer, in the early 1970s at The University of Western Ontario located in London, Canada, conducted research involving the collection of surfactant using an intact lung lavage process. This lavage collection method decreased the amount of impurities and extracellular matter present than if the lungs were excised and minced. The lavage collection method also ensured the natural ratio of surfactant-associated proteins B and C to phospholipid was maintained. Why is the ratio important? Protein "B" disperses the surfactant across the surface of the alveoli. Protein "C" adheres the surfactant to the lining of the alveoli sacs, jointly decreasing surface tension and thus, promoting oxygen exchange.
The Council of Ontario Universities recognized the discovery of BLES® as one of the top five discoveries at a University in Ontario, Canada, among others such as Insulin.
As a team, Drs. Possmayer, David Bjarneson, and Harold Nigh combined their research efforts, producing a surfactant that mitigates suffering from NRDS in Canada and globally.
BLES® was approved for use in 2002 by Health Canada2.
Clinical Trials
Phase I

Phase 1 clinical trial in 1983 by DR. JA Smyth study shows that a single intratracheal administration of bovine surfactant suspension to infants with respiratory failure due to HMD dramatically improved arterial oxygenation12. A trial later by Dr. M.Dunn in 1992 also proved the safety and effectiveness of 135 mg/kg dosing4.
Phase II

Phase II, a randomized controlled clinical trial in 1991, showed that prophylactic surfactant supplement does not have an advantage over early rescue treatment in neonates of > 30 weeks gestational age4.
Phase III

Phase III, a randomized, comparative, double-blind, multi-dose, multi-centre trial in 1998, BLES® was compared to Exosurf® involving > 1000 neonates. BLES® was significantly more effective with regard to reduced mortality and morbidity, improvements in oxygenation, and required fewer numbers of doses to achieve efficacy outcomes11.
Phase IV

2018 - BLES versus Curosurf® for Treatment of Respiratory Distress in Preterm Neonates and Their Adverse Effects. In a double-blind clinical trial, BLES® is similar in efficacy to Curosurf® and available at a lower cost7. 2019 - Surfactant therapy in premature babies: SurE or InSurE concluded that the SurE technique for Neosurf (BLES®) delivery resulted in a reduced need for mechanical ventilation and the rate of BPD in some vulnerable subpopulations6. 2019 - High-volume surfactant administration using a minimally invasive technique: Experience from a Canadian Neonatal Intensive Care Unit. The study reported successful use of BLES® (i.e., higher volume surfactant via MIST. (85.3%) did not require subsequent intubation or mechanical ventilation1.
In 2022, a prospective comparative effectiveness study involved 968 neonates (494 received BLES® and 474 received Curosurf®).
After accounting for clustering effect and adjusting for baseline characteristics differences and confounders (birth weight, sex, outborn status, antenatal steroid use, surfactant administered via LISA/MIST/INSURE), no differences were observed in any of the outcomes listed below:

Total duration of any respiratory support
Duration of invasive and non-invasive respiratory support
Duration of oxygen supplementation
Pneumothorax Bronchopulmonary dysplasia (BPD)
Mortality prior to hospital discharge and length of stay in NICU10.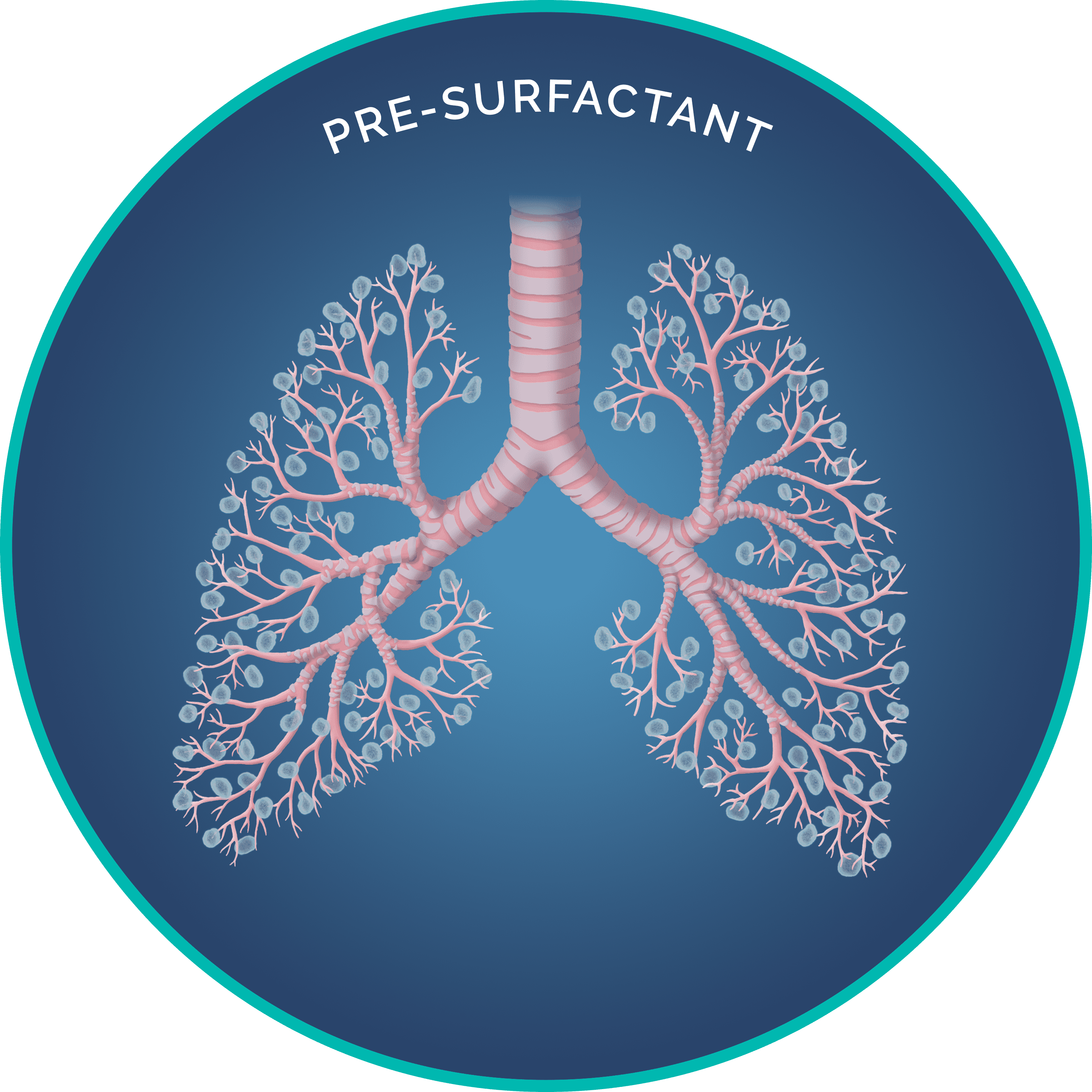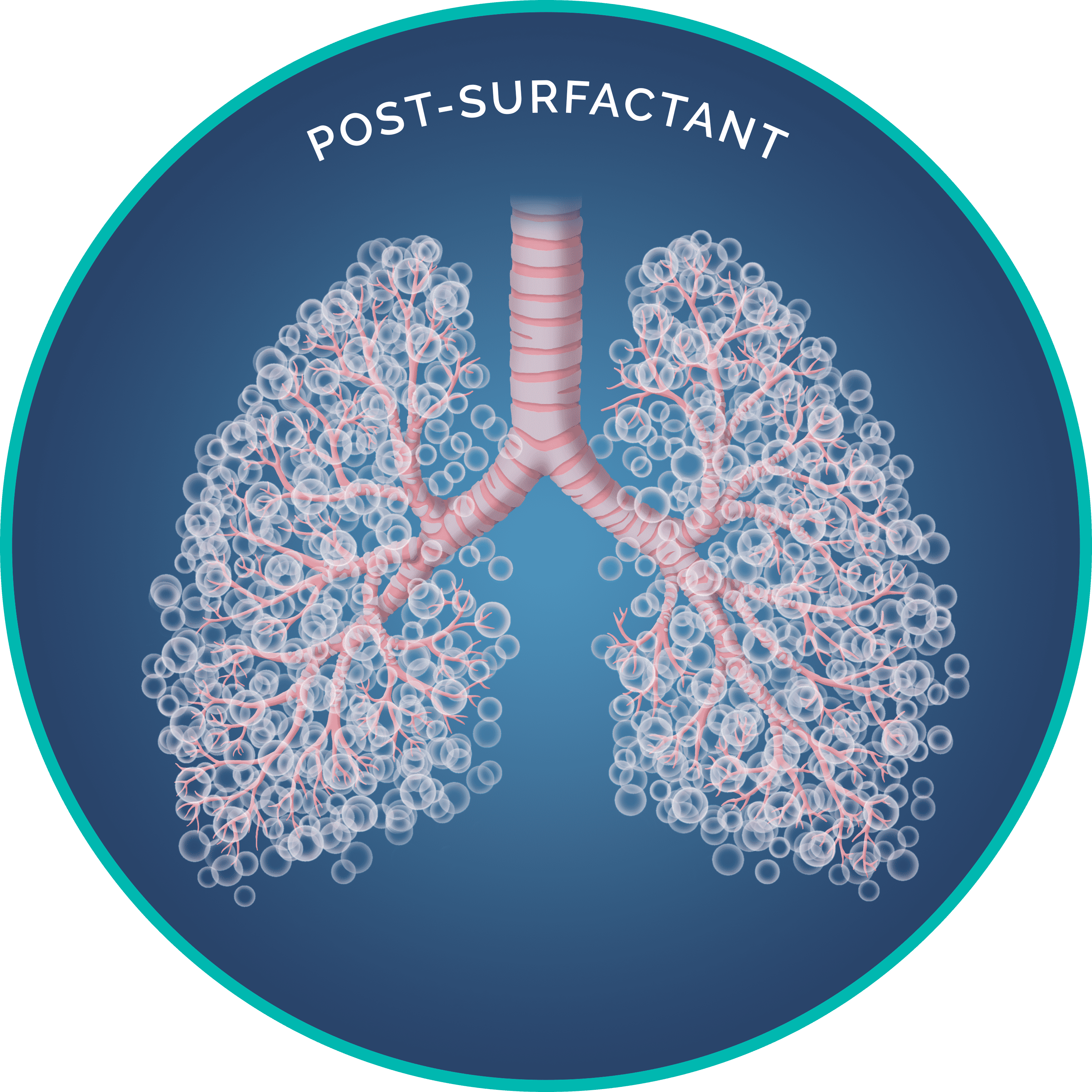 The clinical approach to NRDS has evolved. BLES®, LISA, and BLEScath® are three innovations that may Impact NRDS Treatment2,3,5.
BLES® is approved for surfactant administration via the LISA method by Health Canada2.
Less invasive surfactant administration (LISA)/Minimally Invasive Surfactant Therapy (MIST) is a new method that is transforming the conventional surfactant delivery through intubation, intubate-surfactant-extubate (INSURE), or continuous positive airway pressure (nCPAP) alone procedures14.
LISA method uses a small diameter catheter inserted into the trachea to deliver exogenous pulmonary surfactant to a spontaneously breathing neonate> than 28 weeks gestation and/or > than 1000 grams,
supported with nCPAP2,3,5.
To meet the challenge of this new method, BLEScath® was developed by clinical experts who understand the practice and importance of delivering surfactant to neonates. BLEScath® is intended for the administration of bovine lipid extract surfactant suspension using the LISA technique for rescue treatment of infants suffering from NRDS2,3.
References
1. Bhattacharya S, Read B, McGovern E, da Silva O. High-volume surfactant administration using a minimally invasive technique: Experience from a Canadian Neonatal Intensive Care Unit. Paediatr Child Health. 2019;24(5):313-317.
2. BLES® Product Monograph January 31, 2022.
3. BLEScath® Instructions for Use December 31, 2020.
4. Dunn MS, Shennan AT, Zayack D, Possmayer F. Bovine surfactant replacement therapy in neonates of less than 30 weeks gestation: A randomized controlled trial of prophylaxis versus treatment. Pediatrics. 1991;87(3):377–86.
5. Herting E, Härtel C, Göpel W. Less invasive surfactant administration. Current Opinion in Pediatrics. 2020;32(2):228–34.
6. Jena SR, Bains HS, Pandita A, Verma A, Gupta V, Kallem VR, et al. Surfactant therapy in premature babies: Sure or insure. Pediatric Pulmonology. 2019;54(11):1747–52.
7. Kheradmand Sarokolai Z, Niknafs P, Azizzadeh F, Bahman Bijari B, Mousavi H.BLES® versus Curosurf® for treatment of respiratory distress in preterm neonates and their adverse effects. Iranian Journal of Pediatrics. 2018;28(4). 7
8. Lam BCC, Ng YK, Wong KY. Randomized trial comparing two natural surfactants (Survanta versus BLES) for treatment of neonatal respiratory distress syndrome. Pediatric Pulmonology. 2005;39(1):64–9.
9. Lemyre B, Laughon M, Bose C, Davis PG. Early nasal intermittent positive pressure ventilation (NIPPV) versus early nasal continuous positive airway pressure (NCPAP) for preterm infants. Cochrane Database of Systematic Reviews. 2016;2017(2).
10. Lemyre B, Lacaze-Masmonteil T, Shah PS, Bodani J, Doucette S, Dunn M, et al. Poractant alfa versus bovine lipid extract surfactant: Prospective Comparative Effectiveness Study. Journal of Perinatology. 2022;
11. Phase II Peliowski A, Finer NN. A randomized, blinded, Canadian multicentre trial to compare a bovine surfactant (BLES) (b), with a synthetic, Exosurf (E), for the rescue treatment of respiratory distress syndrome (RDS) in premature newborns ≤ 1250 g. PediatrRes 1998;43:293A. 8
12. Dr. Abraham Peliowski, Edmonton, Alberta [Internet]. Dr. Peliowski – Doctor Abraham Peliowski – 10240 KINGSWAY NW NICU ROYAL ALEXANDRA HOSPITAL, Edmonton, Alberta. [cited 2022Apr7]l
13. Smyth JA, Metcalfe IL, Duffty P, Possmayer F, Bryan MH, Enhorning G. Hyaline membrane disease treated with bovine surfactant. Pediatrics. 1983;71(6):913–7.
14. Vento M, Bohlin K, Herting E, Roehr CC, Dargaville PA. Surfactant administration via thin catheter: A practical guide. Neonatology. 2019;116(3):211–26.